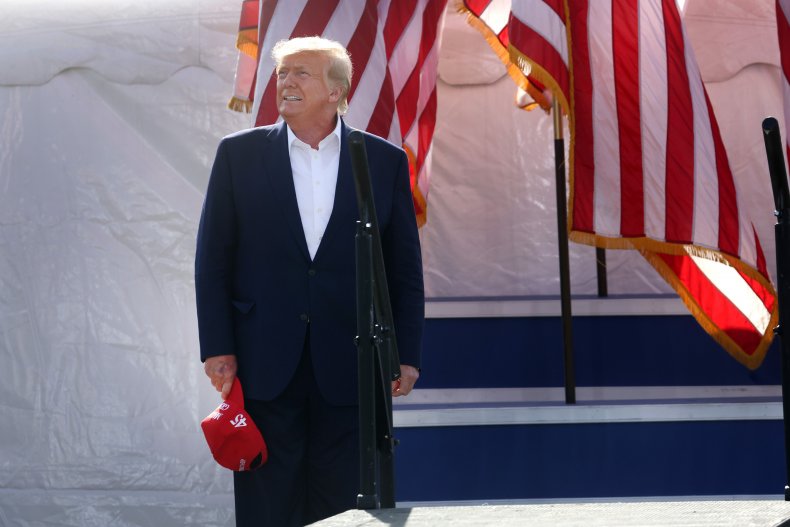 Former President Donald Trump excoriated Democrats over the national shortage of baby formula and suggested the problem is being overlooked, despite expansive media coverage and outrage from his political allies.
Trump made the remarks Friday in a sharply worded statement criticizing Democrats for the approval of an aid package to Ukraine while parents across the US are facing baby formula shortages. Despite saying that the baby formula shortage has been ignored, Trump joins other Republicans using the ongoing issue to attack President Joe Biden over his handling of the economy.
"The Democrats are sending another $ 40 billion to Ukraine, yet America's parents are struggling to even feed their children," Trump said in a statement. "There is a massive formula shortage, but no one is talking about it — it is a national disgrace."
He added that parents being unable to "get nutrition for their newborns and infants is a mark of eternal shame on the Democrat Party. America First!"
Grocery pricing tracker Datasembly put the out-of-stock fluctuation for baby formula at 43 percent for the week ending May 8. For the first half of 2021, the out-of-stock fluctuation for baby formula was between 2 and 8 percent, according to Datasembly.
The availability of baby formula started shrinking in July 2021 and was made worse by product recallssupply chain disruptions and historic inflation, Datasembly CEO Ben Reich said in a statement earlier this week.
As the shortage has continued, stores have rationed baby formula and frustrated parents have reported driving hours in search of any available bottles or cans, only to find empty store shelves. Parents have formed Facebook groups to help track down the increasingly elusive product, and doctors have issued warnings about what can and can't be mixed to stretch formula supplies.
The problem has remained present in headlines. Republicans, who have frequently hammered Biden over his handling of the economy, have increased their attacks on the president over the shortage.
"Did you ever think we'd get to a point in America where moms can't find baby formula?" Republican Representative Jim Jordan tweeted Friday.
On Tuesday, 57 House Republicans voted against a nearly $ 40 billion aid package for Ukraine. Georgia Representative Marjorie Taylor Greene explained her no vote in a tweet, saying the package "does things we shouldn't be doing," especially with Americans facing a baby formula shortage. Donald Trump Jr. also weighed in with a tweet criticizing the vote.
Republicans aren't the only ones talking about the issue. Congressional Democrats have scheduled a hearing on the shortage for later this month. Biden has also called on the Federal Trade Commission (FTC) to investigate reports of baby formula price gouging. The White House also says it is working to streamline requirements for baby formula manufacturers.
Newsweek reached out to Trump for comment.
Original Article reposted fromSource link
Disclaimer: The website autopost contents from credible news sources and we are not the original creators. If we Have added some content that belongs to you or your organization by mistake, We are sorry for that. We apologize for that and assure you that this won't be repeated in future. If you are the rightful owner of the content used in our Website, please mail us with your Name, Organization Name, Contact Details, Copyright infringing URL and Copyright Proof (URL or Legal Document) aT spacksdigital @ gmail.com
I assure you that, I will remove the infringing content Within 48 Hours.