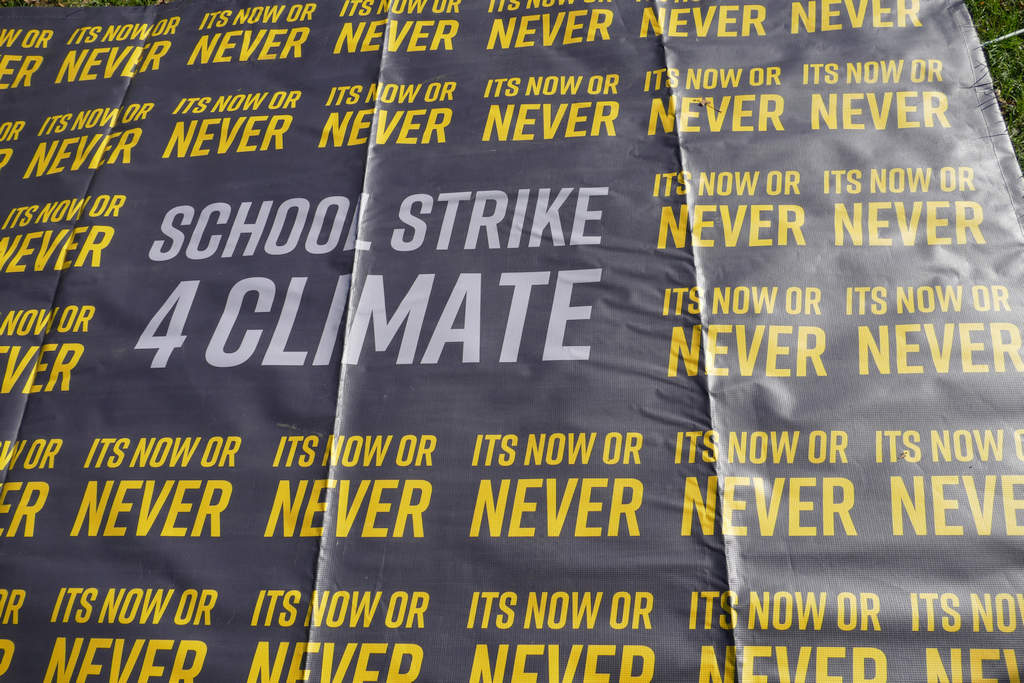 Transcript of interviews with Owen Fitzgerald and Sam Ecclestone, Co-Convenors of Nipaluna Climate Collective, Parliament Lawns, Hobart, 13 May 2022.
Owen Fitzgerald
My name is Owen Fitzgerald, I am one of the head convenors of the nipaluna Climate Collective, as well as the on-the-day event convenor and media convenor.
Tasmanian Times
At this event today, the rally, what's your key message?
Owen Fitzgerald
We're really pushing to have a youth voice heard in Parliament. So many of the youth here today will not be able to vote in this coming election. And it's crucial that our youth voices are heard as this election will dictate our future. We can't rely on other people to make our future for us, we have to have our voices in this.
Tasmanian Times
What are the key things that you would like to see in terms of climate action?
Owen Fitzgerald
We'd love to see the phasing out of fossil fuels, coal, gas, anything that's really harming our environment. We need to see justice for First Nations peoples and rights given to them. And we desperately need a youth voice in Parliament.
Tasmanian Times
There was a proposal from Scott Rankin, one of the candidates I believe for Braddon for The Local Party, and that was to give 15-year-olds a voluntary vote – not a compulsory vote, so you wouldn't be fined if you don 't vote at that age – and then at 18 a conventional compulsory vote. What's your feedback on that proposal?
Owen Fitzgerald
I absolutely love that idea. I think lowering the voting age to 15 but not having it as mandatory is a really beneficial way where the youth can have their voice and we also get a better view on how the youth view Parliament at the moment. I don't think Parliament understand, or the governments understand, that the youth care about the policies they're offering. And by lowering the voting age, they'll actually see that the youth want to say and what they're producing for us.
Tasmanian Times
I was at another press conference today and one of the journalists asked 'what do you think about the children not being in school?' What's your response to that?
Owen Fitzgerald
If we're in school to get an education, and the government won't listen to us, why should we stay in school if they won't listen to what we're putting forward? We have an education in climate change and sciences now, and they still refuse us. If we have an education on a topic and they don't, they should listen to us.
Why should we have to remain in a school if our education will mean nothing because they refuse to listen to us now?
Sam Ecclestone
My name is Sam Ecclestone. I'm one of the co-convenors of the nipaluna Climate Collective who are organizing this rally, that's just being being organized behind me. It's just being put together right now. And this is one of our series of school strikes that we've been organizing for almost four years now, that have had a variety of messages over the years but with the clear theme of young people standing up to demand the adults in the government act on climate change.
The specific theme of this event is slightly different from the others in that we're demanding that Tasmanian voters, as people a few years old enough to have the franchise, go out and vote for a government that will act on climate change. Because as we've seen rally after rally after rally, pressure after pressure after pressure, governments have refused to act on climate change. So now we want voters to apply that pressure to them directly and to vote them out.
Tasmanian Times
I noticed that you do not have political party speakers at your rally today. Why's that?
Sam Ecclestone
Well, because we believe this rally is not about having an opportunity for political grandstanding. It's not about having the opportunities for candidates to sell themselves to voters. This is about the opportunity for young people to stand up and deliver voices to voters. It's not about having voters having things sold to them.
Tasmanian Times
We're likely to end up with either a Liberal or Labor government. What's your view on the sort of policies they've been promising on climate action? Is it anywhere near enough?
Sam Ecclestone
Well, obviously, the proposals that have been made – by especially the Liberal Party – have been absolutely nowhere near to scratch. There has been clear scientific evidence, scientists have spoken about policies, their policies directly and they've said that they are completely unacceptable. Obviously, Labor's policies are a step forward, but they are nowhere near enough to what we need to be able to act to the extent that is necessary.
That's why it's so important that Tasmanian voters don't just elect a government that's interested in acting on climate, but elect a Senate and and elect a cross-bench that will push that government even further to act more aggressively on climate change in the immediate term.
Tasmanian Times
This is your pre-election rally. After this what will be the future of your movement?
Sam Ecclestone
Well, that's a really good question. And I think that does depend on what outcome we do get, or one of a couple of different outcomes. But I think there's still definitely going to be a role to play because as we've seen, because of a variety of different factors, whether that be fossil fuel money, whether that be governments being locked into their own ways, and locked into a idea of ​​policy that isn't actually up to scratch, there is always going to be a role to play to be putting pressure on governments. Even during years of progressive governments 2010 to 2013, there was still a really strong protest movement, there was still a really strong pressure campaign, because no matter what a government is doing they can always be doing better. And climate change is such an immediate threat. It's such an important challenge that we need to overcome. You can always be pushing a government to do better, even if it's been doing better than what's been done before.
Tasmanian Times
And as usual, there'll be people who say, 'Oh, they should be in school'. Okay, you've probably answered this question many times but what's your take?
Sam Ecclestone
Well, the answer that I've given before and the answer that I'll give, again, is that we think that sacrificing a day's education, a single day's education, maybe a few times, is a sacrifice that's worth making, considering the magnitude of the challenge that we're facing. We think the challenge of climate change has having an effect on our lives, it's going to be far greater than the possible minimal educational deficiencies that we're going to be getting because of missing five days of school over the course of our high school or primary school.
Tasmanian Times
Have teachers in the schools in general been supportive, if you take this kind of initiative?
Sam Ecclestone
Obviously, teachers have their own views on this, though, teachers are all their own individual people, they vote their own ways, they've got they've got their own opinions. And obviously, the Department of Education because of the Education Act can't endorse the work we're doing. But we have seen really strong support from schools and from teachers public and private to the work that we're doing. But there is only so far within legislation the amount that they can support us legally. But we've always seen strong personal support from staff and students.
Tasmanian Times
You're obviously fairly politically aware; do you think climate change has received enough attention in this election? I mean, a lot of coverage has been about someone unable to remember the unemployment rates and things like that. Has climate change had enough focus?
Sam Ecclestone
No, I don't think it has. But I think that has something to do with Australia's media environment. I think Australia's media environment is very built on short term immediate things that will sell papers and that will get clicks on the internet. And unfortunately for young people and for the future of the planet climate change to an extent just doesn't do that so much. If Albo's going out and making a mistake about something in Devonport or in Launceston, then that's much likelier to get a click on news.com.au, then a climate related story that's probably going to be long with lots of facts and details. It's just not going to get that attention, unfortunately. But we don't think it's been covered enough. That's why we're doing events like this to bring the conversation back to climate and so that it's being considered by voters when they're going into the ballot boxes on Saturday week.
Tasmanian Times
This movement was started by Greta Thunberg a few years ago. It's being going on for years now; do you feel you feel like you've got momentum, do you feel frustrated, do you feel energized?
Sam Ecclestone
Well, I think we've had major problems. The big problem with school strike has been that it built up to that really amazing rally where we had the biggest ever protest in Tassie, which happened here in 2019. And then obviously, we had COVID hit, and we are sensible people, we want to be protecting people and protecting people's lives. So really we weren't able to do events for a long period of time, and that just killed all that momentum right off. And what we're trying to do here, what we've been trying to do by going out and talking to students, talking to people talking to parents, is for building that momentum back up again. We've seen signs that that's working, but obviously ongoing COVID restrictions do hamper our ability to have these big turnout events that really do build our awareness and build our image.
Original Article reposted fromSource link
Disclaimer: The website autopost contents from credible news sources and we are not the original creators. If we Have added some content that belongs to you or your organization by mistake, We are sorry for that. We apologize for that and assure you that this won't be repeated in future. If you are the rightful owner of the content used in our Website, please mail us with your Name, Organization Name, Contact Details, Copyright infringing URL and Copyright Proof (URL or Legal Document) aT spacksdigital @ gmail.com
I assure you that, I will remove the infringing content Within 48 Hours.