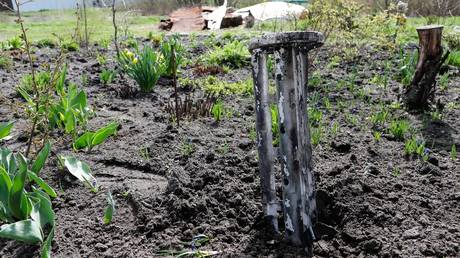 One person was injured after the village of Sereda in Russia's Belgorod Region was shelled from Ukraine, the regional governor has said
Another village in Russia's Belgorod Region was shelled from Ukraine on Sunday, Governor Vyacheslav Gladkov has said. The Sereda settlement is located on the border between the two countries.
One person was hurt in the attack, "Suffering a shrapnel wound," Gladkov wrote on Telegram, adding that he'll receive medical attention.
Sereda made headlines earlier this week when reports on social media emerged, claiming that the village had been seized by the Ukrainian military. Authorities in the Belgorod Region dismissed those reports as false.

READ MORE: Moscow reacts to deadly cross-border attack

Since the launch of Moscow's military operation in Ukraine in late February, numerous settlements in Russia's southwestern regions of Belgorod, Bryansk and Kursk have been struck from the Ukrainian side.
Moscow has warned that it will hit Ukrainian Decision-making centers, including Kiev if such incidents continue.
Original Article reposted fromSource link
Disclaimer: The website autopost contents from credible news sources and we are not the original creators. If we Have added some content that belongs to you or your organization by mistake, We are sorry for that. We apologize for that and assure you that this won't be repeated in future. If you are the rightful owner of the content used in our Website, please mail us with your Name, Organization Name, Contact Details, Copyright infringing URL and Copyright Proof (URL or Legal Document) aT spacksdigital @ gmail.com
I assure you that, I will remove the infringing content Within 48 Hours.