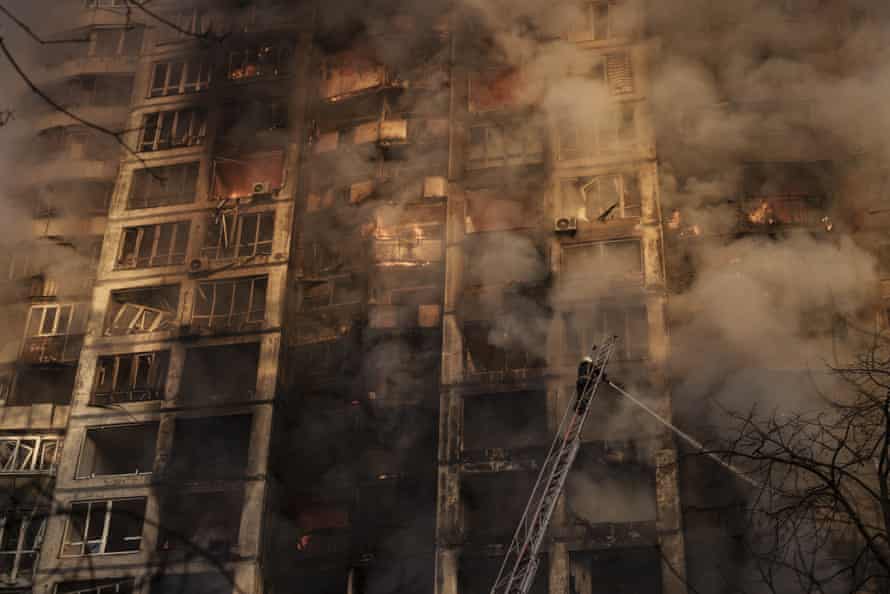 President Sauli Niinistö says Finland will apply for Nato membership
President Sauli Niinistö says Finland will apply for Nato membership.
Here are some of the key images emerging from Ukraine today, day 81 of the Russian invasion.
Kyiv
Kharkiv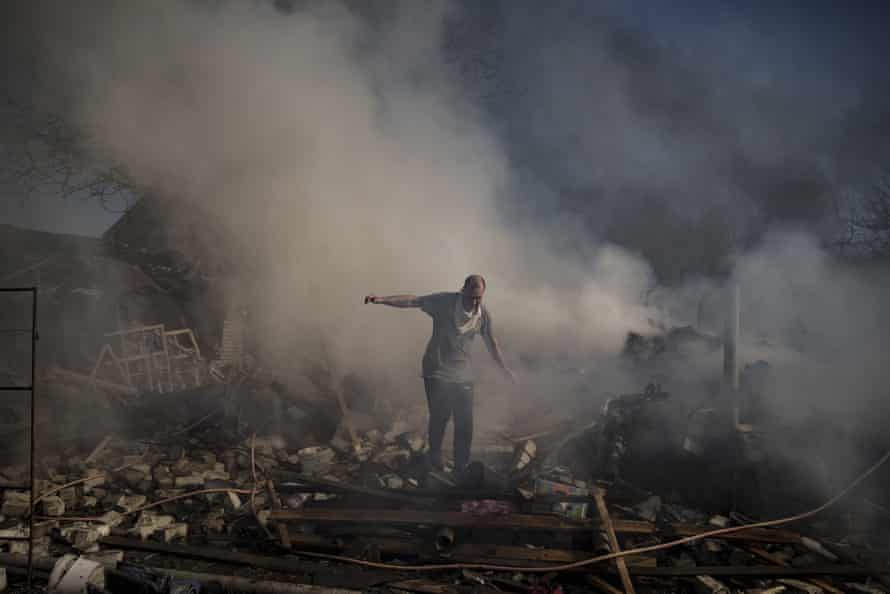 Vilkhivka
In this village of about 2,000 inhabitants, near the eastern city of Kharkiv, dozens of houses were gutted by shells, explosions or fires. Debris – including bullet casings, and remains of ammunition – litters the streets, AFP reports.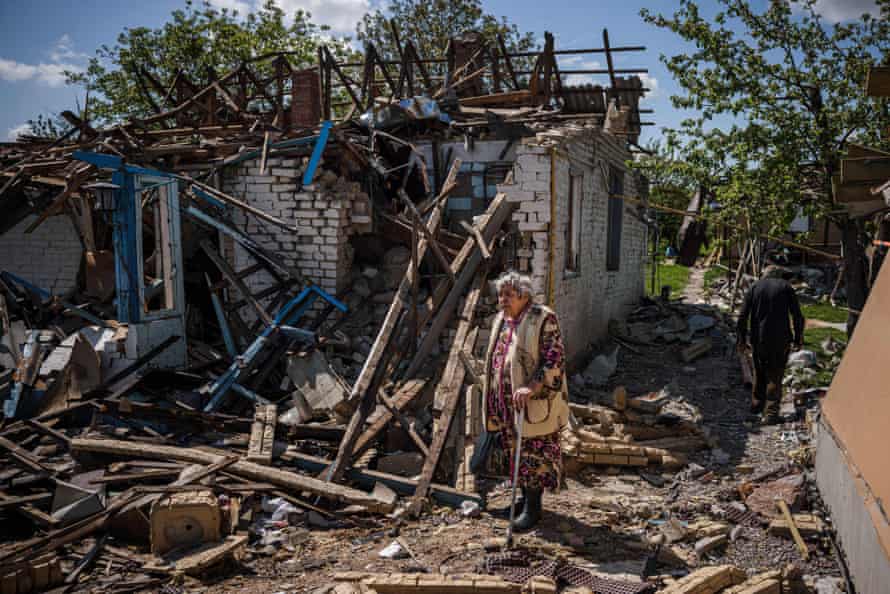 With Finland announcing its intention to apply for Nato membership, and Sweden's ruling party expected to do the same, one obstacle could be objections from Turkey, Reuters reports:
Turkey's foreign minister said on Sunday that Sweden and Finland must stop "supporting terrorists" in their countries, provide clear security guarantees and lift export bans on Turkey as they seek membership of Nato.

Mevlut Cavusoglu, speaking with Turkish reporters after a meeting of Nato foreign ministers in Berlin, said Turkey was not threatening anybody or seeking leverage but speaking out especially about Sweden's support for the PKK Kurdish militant group. Ankara views the PKK as a terrorist organisation.

Finland confirmed on Sunday that it would apply for Nato membership and Sweden is expected to follow suit, in response to Russia's invasion of Ukraine. However Turkey's concerns may pose an obstacle as any decision on Nato enlargement requires unanimous approval by all 30 member states.
Finland's ministry for foreign affairs has tweeted regarding today's announcement that the country intends to join Nato.
Nato membership, it says "offers Finland the most security" in light of its own security environment having "changed fundamentally".
Finland's minister for foreign affairs, Pekka Haavisto, is quoted as saying:
By joining Nato, Finland will strengthen its own security and that of all Europe. We are making this historic decision for future generations.
Finland's President Sauli Niinistö says he is ready to meet Turkey's president Recep Tayyip Erdoğan over Nato membership concerns.
Erdogan has raised objections to Finland and Sweden joining. As Turkey is a Nato member, it could veto their applications.
Niinistö said he was "a bit confused" about what he said was a shift in Turkey's stance, Reuters reports.
What we need now is a very clear answer, I am prepared to have a new discussion with president Erdogan about the problems he has raised.
Finland's President Sauli Niinistö told reporters in the presidential palace in Helsinki:
Today, we, the president and the government's foreign policy committee, have together decided that Finland … will apply for Nato membership.
Niinistö had called Russian president Vladimir Putin on Saturday to tell him of Finland's plans to join the alliance. Putin said such a move would hurt Russian-Finnish relations.
Niinistö, referring to the phone call, added:
I, or Finland, are not known to sneak around and quietly disappear behind a corner. It is better to say it straight what already has been said, also to the concerned party and that is what I wanted to do.
Italian police thwarted hacker attacks by pro-Russian groups during the May 10 semi-final and Saturday final of the Eurovision song contest in Turin, authorities said on Sunday.
Reuters reports that during voting and the performances, the police cybersecurity department blocked several cyber attacks on network infrastructure by the "Killnet" hacker group and its affiliate "Legion", police said.
The police also gathered information from the pro-Russian group's Telegram channels to prevent other critical events and identified the attacks' geographic location.
On 11 May, "Killnet" claimed an attack on the websites of several Italian institutions, including the Senate, Italy's upper house of parliament, and the National Health Institute (ISS), ANSA news agency reported.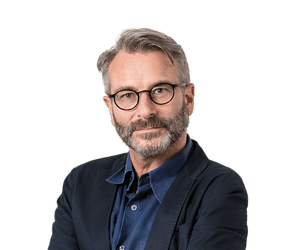 Jon Henley
More on Finland's announcement that it will apply for Nato membership, from our colleague, Jon Henley.
Finland has formally confirmed it intends to join Nato, its president, Sauli Niinistö, has said, abandoning decades of military non-alignment in a historic decision triggered by Russia's invasion of Ukraine.

With neighbouring Sweden's ruling party also holding a decisive meeting on whether to join the 30-member defensive alliance next week, Moscow's onslaught on Ukraine looks set to usher in the expansion of Nato that Vladimir Putin claimed he wanted to prevent.

Finland shares an 810-mile (1,300km) border with Russia and, like Sweden, has maintained strict policies of neutrality then non-alignment since the end of the second world war, viewing Nato membership as a provocation of Moscow.

However, Putin's invasion of Ukraine on 24 February has led to a profound change in its thinking, with public support for Nato accession trebling to about 75%. Polls show a majority of between 50 and 60% are also in favour in Sweden.

Three days after Finland's leaders said it "must apply for Nato membership without delay", the membership proposal is expected to be laid before parliament for ratification on Monday.

Niinistö called his Russian counterpart, Putin, on Saturday and informed him his country aimed to join Nato, in a conversation he described as "direct and straightforward". He added: "Avoiding tensions was considered important."

Russia has repeatedly warned Finland and Sweden against joining Nato, saying such a move would oblige it to "restore military balance" by strengthening its defences in the Baltic Sea region, including by deploying nuclear weapons.

Putin responded to Niinistö's call by saying Nato membership "would be a mistake, since there is no threat to Finland's security", according to a readout of the call released by the Kremlin.

After a cross-party Swedish parliamentary review on Friday said joining Nato would boost Sweden's national security and help stabilise the Nordic region, leaders of the country's ruling Social Democrats were also poised on Sunday to jettison the party's longstanding opposition to Nato membership.

With a decision expected in the early evening, Swedish media reported that – assuming Helsinki sends its application in on Monday – Stockholm is likely to follow suit as early as Tuesday, with the alliance set to launch the accession process immediately afterwards.

Read the full report here.
President Sauli Niinistö says Finland will apply for Nato membership
President Sauli Niinistö says Finland will apply for Nato membership.
Ukraine's Kalush Orchestra has released a powerful video for their Eurovision-winning song which was filmed in the ruins of Irpin and Bucha.
The band's lead singer Oleh Psyuk said:
I once dedicated this song to my mother, and when the war broke out, the song took on a lot of new meanings.

Although there is not a word about the war in the song, many people began to associate the song with mother Ukraine.

Moreover, society began to call it the anthem of our war!

But if Stefania is now the anthem of our war, I would like it to become the anthem of our victory.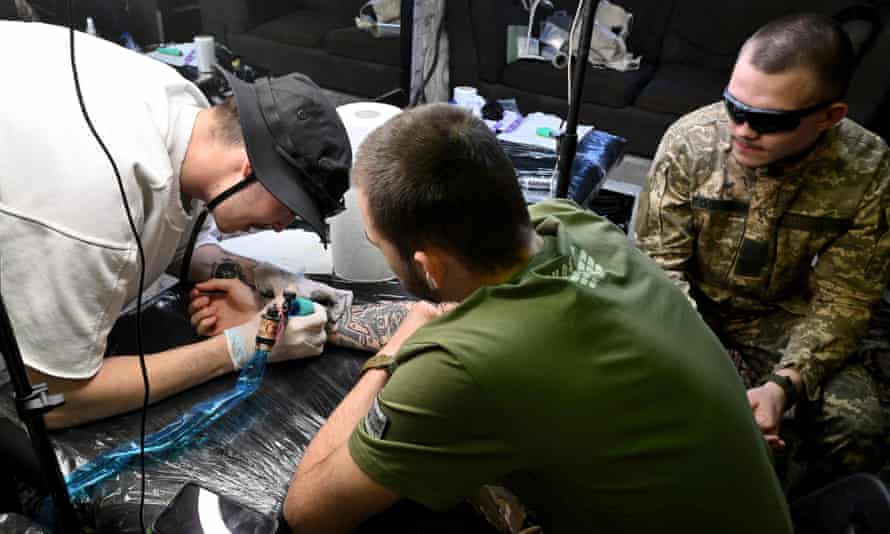 At the "Art Weapon" festival in Kyiv dozens of Ukrainians chose to show their love for their nation by getting tattoos, with payments for them going to the Ukrainian military as donations.
The event took place at an abandoned Soviet-era factory on Saturday, Agence France-Presse reports.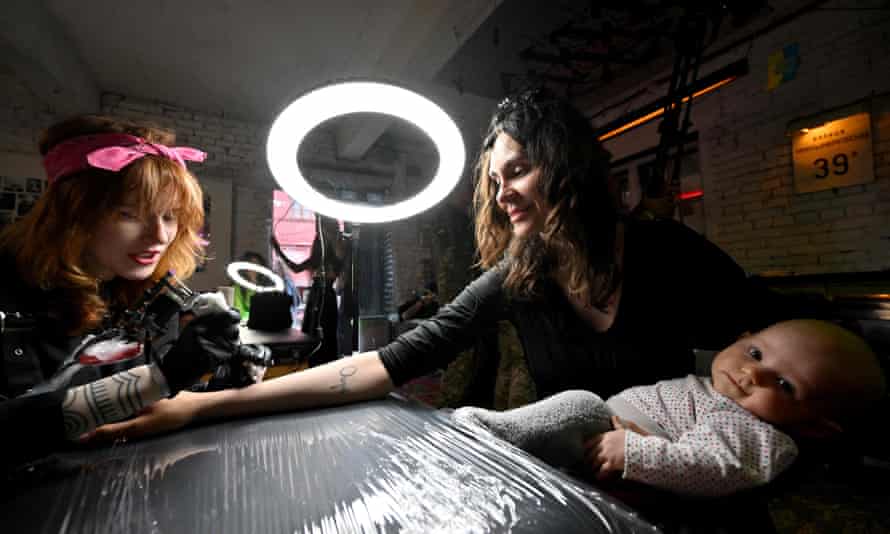 A 20-year-old soldier, who spoke on condition of anonymity, was getting inked for the first time. His tattoo was dedicated to Ukraine's Azov regiment and the group's fighters – many of whom are under attack at a steel plant in the besieged port city of Mariupol, including two of his friends.
It's very difficult for me, but I can't imagine what they feel. They told me they will stand for Ukraine until they die.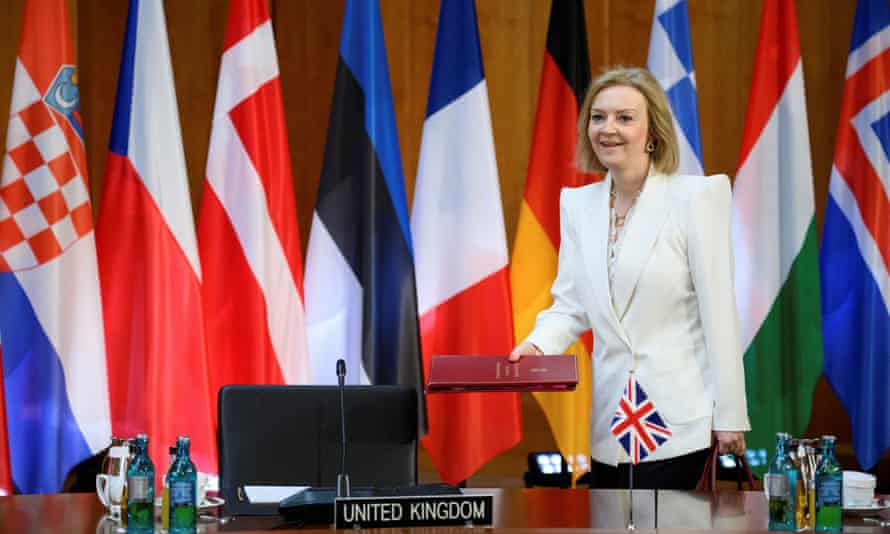 Nato must maintain its "open door" policy towards admitting new members, UK foreign secretary Liz Truss has said.
PA Media reports that following a meeting of alliance foreign ministers in Berline, Truss said security in Europe will be strengthened if – as expected – Finland and Sweden apply to join.
She said:
Nato's open door policy is essential and if Finland and Sweden decide to apply to join, it is clear that they would strengthen the alliance and European security as a whole.
Truss said the meeting had agreed that they must continue to support Ukraine to help it to "push Russia out".
Putin must face a sustained defeat in Ukraine, Russia must be contained and such aggression must never happen again. Ukraine's security must come from it being able to defend itself. Allies must support Ukraine's move to Nato-standard equipment, immediately providing artillery, training and the required expertise.
Nato's deputy general secretary, Mircea Geoana, has congratulated Ukraine on their Eurovision triumph and said the win sends a message to Vladimir Putin, Reuters reports.
He said:
I would like to congratulate Ukraine for winning the Eurovision contest. And this is not something I'm making in a light way. Because we have seen yesterday the immense public support all over Europe and Australia for the bravery. Of course the song was beautiful, it is beautiful.
The Kalush Orchestra won with their entry "Stefania", and Geoana sought to link its victory with Ukraine's fight against Russia and the alliance's solidarity with Kyiv.
Geoana said Nato wanted to send a message to Russian President Vladimir Putin that despite starting the most "brutal and cynical" conflict since the Second World War, Ukraine continued to surprise with its bravery and the West with its unity.
So I'm saying that we are united. We are strong, (and) will continue to help Ukraine in winning this war.
Ukraine's foreign minister, Dmytro Kuleba, tweets that he met with US secretary of state, Antony Blinken, and says "more weapons and other aid is on the way to Ukraine."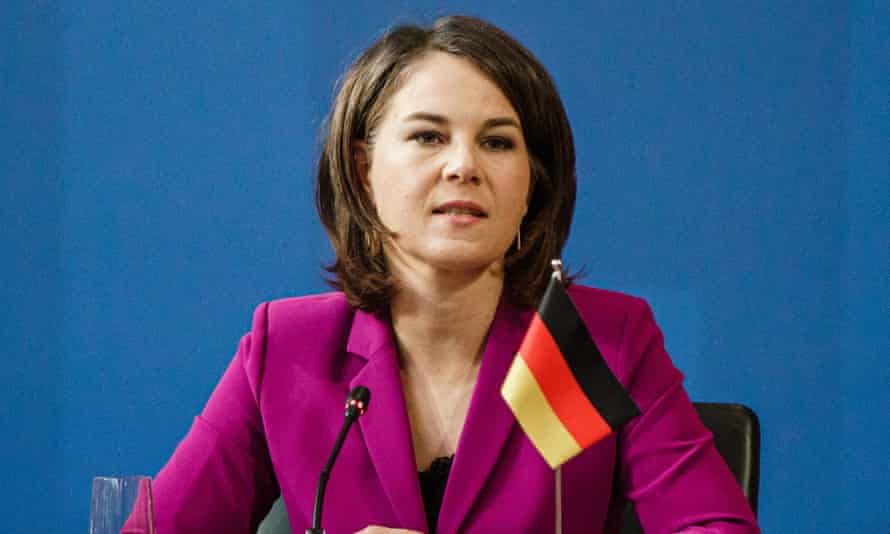 Further details on Germany's position regarding Finland and Sweden's potential bid for Nato membership.
Reuter reports comments from Foreign Minister Annalena Baerbock:
Germany has prepared everything to do a quick ratification process.

If they decide to join they can join quickly…We must make sure that we will give them security guarantees, there must not be a transition period, a grey zone, where their status is unclear.
She was referring to the ratification period that can take as long as a year, during which the Nordic countries will not yet be protected by Nato's article 5 which guarantees that an attack on one ally is an attack on all.
Some more now from Reuters on the military situation in Donbas, which has become the main theatre of the war over the past month.
Earlier today, British military intelligence delivered a damning assessment of Russia's Donbas campaign, saying Russia had lost about a third of the ground combat force deployed in February, had fallen "significantly behind schedule" and was unlikely to make rapid advances during the next 30 days.
The Ukrainian military has reported a counteroffensive is underway near the Russian-held town of Izium, but Russian forces were advancing elsewhere in the Donbas region. Those reports have not been independently verified.
Ukrainian President Volodymyr Zelenskiy said the situation in Donbas remained very difficult, and Russian forces were still trying to salvage a victory there. "They are not stopping their efforts," he said.
Some more on Ukraine's Eurovision song contest triumph.
Here is Ukraine's Eurovision presenter and commentator, Timur Miroshnychenko's ecstatic reaction to the news that his country had won.
He was broadcasting his Eurovision commentary from a bomb shelter.
A missile strike hit some military infrastructure in the western Ukrainian region of Lviv early on Sunday, the region's Governor Maxim Kozitsky said in a post on the Telegram messaging app, reports Reuters.
Kozitsky said:
Four enemy missiles hit one of the military infrastructures in the Lviv region. The object is completely destroyed. According to preliminary information, there are no casualties. No one sought medical help.
Reuters said it was not able to independently verify the reports and there was no immediate response from Moscow.
The regional "West" Air Command of Ukraine's Air Force said in a social media post that several missiles were fired from the Black Sea at the Lviv region. Two of the missiles were destroyed before hitting targets, it said.
Original Article reposted fromSource link
Disclaimer: The website autopost contents from credible news sources and we are not the original creators. If we Have added some content that belongs to you or your organization by mistake, We are sorry for that. We apologize for that and assure you that this won't be repeated in future. If you are the rightful owner of the content used in our Website, please mail us with your Name, Organization Name, Contact Details, Copyright infringing URL and Copyright Proof (URL or Legal Document) aT spacksdigital @ gmail.com
I assure you that, I will remove the infringing content Within 48 Hours.