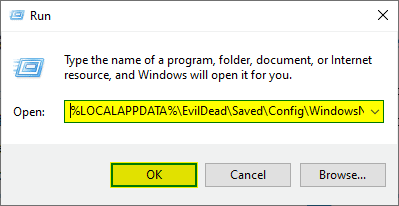 Evil Dead: The Game is a cooperative horror-action game from Saber Interactive. PC players interested in the title can get it now from the Epic Games Store. Despite the solid PC port and support from NVIDIA with features like DLSS, the game lacks some basic graphical options. If you want to disable the Evil Dead The Game Motion Blur Effect, here is how you can do that.
While you're here, make sure to read about how you can disable Chromatic Aberrationand Depth of field as well.
Disable the Evil Dead The Game Motion Blur Effect
Motion Blur is a common visual effect that is used frequently in PC and console games. It smooths out motion and can be pretty helpful if you are struggling to main a decent framerate. Though, people with capable setups usually tend to turn this off and favor a clearer image. Sadly, like other visual effects, Evil Dead: The Game doesn't let you turn this off either.
To do so, you can follow the steps below.
Open Windows Run by either pressing Windows + R keys together, or by searching for it in Windows Search
Enter the following address, and press OK
%LOCALAPPDATA%EvilDeadSavedConfigWindowsNoEditor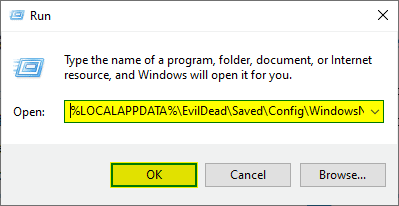 Here, open the Engine.ini file using a text editor like Notepador Notepad ++
Now, add the following lines at the bottom of the file
[SystemSettings]
r.MotionBlurQuality=0
Save the file (Ctrl + S), and exit out
After saving the file, motion blur will be completely disabled from the game. The next time you launch it, it won't be present in anything, whether it's the gameplay, menu transitions, or in-game cutscenes.
If you wish to turn it back on, you can simply remove the lines above or just the r.MotionBlurQuality = 0 part, and save the file again.
If you want to disable this effect in other recent games, make sure to check out our guides section.
Hopefully, with enough feedback, the developers add the option in the settings with some updates. Sure, this method isn't that hard, but it would be better to just toggle it from the settings.
We hope this guide was helpful, and you were able to disable the Evil Dead The Game motion blur Effect on PC. If you have any questions, feel free to ask them in the comments below.
Original Article reposted fromSource link
Disclaimer: The website autopost contents from credible news sources and we are not the original creators. If we Have added some content that belongs to you or your organization by mistake, We are sorry for that. We apologize for that and assure you that this won't be repeated in future. If you are the rightful owner of the content used in our Website, please mail us with your Name, Organization Name, Contact Details, Copyright infringing URL and Copyright Proof (URL or Legal Document) aT spacksdigital @ gmail.com
I assure you that, I will remove the infringing content Within 48 Hours.